"We Dig Your Dirt!"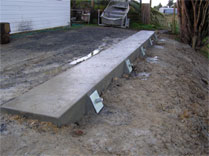 Anlyn Piling & Contracting Ltd specialise in the sector of Pile Driving, Drilling & Retaining walls. Offering the Whangarei area and wider Northland region competent, efficient and quality-driven excavation and earthmoving services.
We specialise in Pile Driving, Drilling & retaining walls. With over 22 years experience in the piling industry, we provide a quality job all over Northland.
Our services include, Underpinning buildings, Retaining walls, Palisade walls, House sites, Driven or drilled house piles. Soldier pile walls, Earthworks, bank stabilisation, driveways, farm bridges, preparing house sites, Earth dams. etc.
The equipment we use includes 6 Wheel Tipper, 12 & 5 Tonne Diggers & Bobcat.
Give us a call today to discuss your requirements, or send an email for enquiries.
Services
Our Services Includes
Retaining Walls
Drilling
Earthmoving
Underpinning
Pile Driving
Drilled Piles
Directional Drilling And Drainage
Outdoor excavation and earthmoving
6 Wheel Tipper
12 & 5 Tonne Diggers
Bobcat Loader
Augers
Selection of Driving Hammers
Other speciality services
Retaining Walls
Earthworks & Earthmoving
Driveways
Farm Bridges & Dams
Stabilisation & Underpinning
Drilling & Digging